~Smiley is currently 16 months old~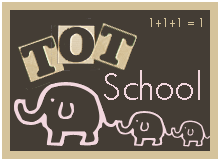 Unfortunately, I didn't take many pictures of our tot school this week. Here are the few that I did take.
Smiley had a great time feeding the turtles with daddy.
We practiced opening and closing with many different objects.
Smiley loves his little pom poms. We transferred them into many different containers. In this picture, he is dropping them into a water bottle.
We did a few art projects with stickers this week. He likes to stick them on the paper and then try to peel them back off.
If you would like to read more about what other tots are up to, please check out Carisa's blog at
1plus1plus1equals1
.