~Our little lovebug is currently 16 months old~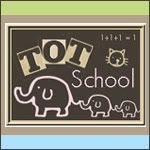 Here are some of the things that this 16 month old was up to this past week:
She really likes anything that involves fine motor skills. The smaller the items involved, the better...
Putting coins in a piggy bank.
In honor of Valentine's Day, we did several heart/love themed activities. One of them was sorting little foam hearts (from Michaels) into heart shaped cupcake molds (we've had these for a long time). She doesn't really grasp the sorting concept yet, but has fun putting them into containers and then dumping them back out ;)
I also encouraged her to sort our Mickey Mouse Clubhouse memory cards, but again, she wasn't really into the sorting, but still enjoyed adding and removing pieces from the tray... Still a very good fine motor activity ;)
Click on the tot school button above to see what other tots were up to this past week...