~Smiley is currently 30 months old~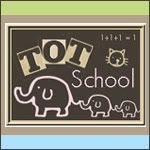 Tot school was pretty much non-existant these past two weeks. We're getting ready to move next week and as you can imagine, we have been VERY busy packing. Pretty much all of Smiley's toys and tot school supplies are packed up and as a result we took a break from our regular tot school activities. Of course, there were still many learning opportunities, but I didn't have my camera on me for most of them.
Learning Toys...
We did play with two of our tot school toys this week (although I just packed those up yesterday as well).
The one toy I haven't packed yet is Smiley's train table. My son is IN LOVE with his train table right now. All he wants to do all day is play with this. However, he's not using his trains on it. Instead, he's using his CARS vehicles on the train tracks and the roads. He loves this :) He has many CARS in his collection now. I think daddy is almost more excited when he gets to add a new car to his collection. He gets all giddy every time he finds a car that we don't have yet. He even started checking Craigslist, lol. Oh well, at least they are cheap... Probably much cheaper than Thomas the train stuff ;)
And the littlest member of our famiy is really into the cars and trains as well :)