~Smiley is currently 29 months old~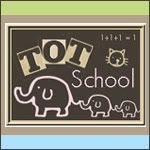 Letter T~ T is for Turtle; 10 Commandments
We had fun with the Letter Tt this week. Again, we used several of Carisa's RRSP activities.
We talked about the verse for this week and about its application. Smiley then colored the coloring page. He went a little wild with the green ;)
Smiley was really into coloring this week and asked for coloring activities often. Here he is coloring the tablets of the 10 Commandments art activity. He then glued them on all by himself. He did really great with this and loved it :)
He traced the horizontal and vertical lines as a pre-writing activity and did pretty well with this. This is an area I want to continue to focus on over the next few weeks...
We also used several Tt activities from Erin's
letter of the week curriculum
.
Smiley enjoyed dot painting, but wasn't really into using the template...
Instead, he mainly used the back of the page...
Most of his time though was spent stacking the lids ;)
He liked sorting the turtles by size...
He was really into this activity from
Home Grown Hearts
! Smiley loves trains, so this number sequencing game was right up his alley :)
He liked attaching the correct number of clips to the turtles...
He found and circled the letter Tt.
He traced lines (he was only able to do straight lines).
I ordered these magnets from amazon last week and Smiley LOVES them. He wasn't very interested in the intended activity (to use them with these fun alphabet sheets), but played with them in a variety of other ways.
He liked finding a specific color (i.e. all the red ones) and putting them in a cup or sorting the magnets into his sorting bowls... Maybe once the novelty wears off he'll actually do the magnet worksheets. I think they are so cute!
Learning Trays
One of the activities on our learning trays this week were lacing beads.