~Smiley is currently 30 months old~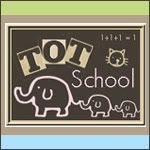 We finally moved!!! I am so so so excited :) We're still living out of boxes, but things are starting to come together :) I am almost done setting up our tot school area and can't wait to post pictures soon. We moved from a 2 bedroom to a 3 bedroom apartment, which is much better. Even our little bug has her own room now :) We're still limited in terms of space for tot school, but I think I have been able to utilize the space we have pretty well.
We still haven't really gotten back into the swing of things (mainly because I have been so busy unpacking that I just didn't have time to prepare things for tot school). I really hope to be able to get back into our routine very soon though. The unorganized chaos is beginning to drive me nuts ;) While it wasn't as organized or planned, we still did several tot school activities this past week :)
ABCs...
Smiley worked on his ABC puzzle several times this week. He did awesome with this :)
Smiley had fun with this file folder game that I got from Carisa's blog a while back as part of her Easter/Spring pack I believe :)
Smiley worked with dot paint, and as always, had to stack the paint caps :)
Early Math Skills...
He still really likes connect 4. We mainly used it to make different patterns :)
Fine Motor Skills...
Smiley loved playing with this cloth petals. He stuck them into a dishwasher baskets and medela bottles :)
Teeny Tiny Tot School
~ Our little bug is currently 10 months old~
Our little bug is really into standing right now and is pulling herself up everywhere. She loves to be part of big brother's tot school time and soon it will be time for her to have more structured tot school :)