~Smiley is currently 21 months old~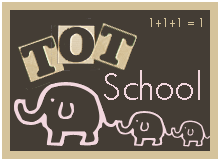 Tot School Toys...
Smiley had fun playing with his lacing beads. However, rather than using them for their intended purpose, he decided to collect all the bees, then all the flowers etc. A great tot school activity nonetheless ;)
Farm Theme...
We had some more fun with our Farm Theme this week. We enjoyed playing with our farm sorting toys. Smiley first sorted them by animal group. Here he is collecting horses...
Next, he sorted them by color...
To make it even more fun, we sorted them into the rings of his fisher price stacker toy :)
We then worked on this fun farm matching game
I also put a farm tot book together for Smiley and he had lots of fun with the different activities. Here he is working on some animal matching... You can find it here:
http://lapbooksbycarisa.homestead.com/FarmTotBook.html
Smiley is completely in love with his little sister and can't get enough of her. So, much of the week was spent loving on his little sister :)
Of course we had to carve pumpkins! It was Smiley's first time and he truly enjoyed himself :)