~Smiley is currently 21 months old~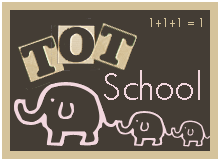 Smiley was sick all of last week, so we did not have any tot school and there was therefore no post last week. Smiley's little sister got an early start on tot school though ;)
Of course, there was lots of cuddling with daddy as well.
Fortunately, Smiley was all better this week and we were able to resume tot school :)
Fine Motor Skills...
Smiley continues to enjoy working with pom poms. He asks for them every single day! By far his favorite tot school activity at this point!
These connectors also continue to be one of Smiley's favorites...
By the way, sticking them on your fingers proves to be great fun as well ;)
Puzzles...
We had a lot of fun working with puzzles this week. I will have to buy some new ones soon!
Tot Book Review...
I was going to print our farm tot book this week, but ran out of ink. So, instead we reviewed our ocean tot book, which Smiley enjoyed a lot!
Farm Theme...
We've been working on our farm theme for the past few weeks and this week included a highlight with a trip to a farm. There were so many fun things to do and Smiley had a blast!
Picking pumkins..

They had this gigantic sensory tub with beans and Smiley could not get enough of this! He spent a good 45 minutes in there just scooping the beans!! I really have to make a tub like this at home, maybe on the balcony, so we don't have beans everywhere!
Smiley had fun playing in this big wooden train :)
Climbing a hay stack...
Enjoying the petting zoo...
Playing with his friend in the wheelbarrow...
And riding on a pony all on his own!! Mama was REALLY impressed!
Helping daddy push the wheelbarrow :)
If you would like to see more tot school activities, please visit Carisa at
1plus1plus1equals1