~Smiley is currently 22 months old~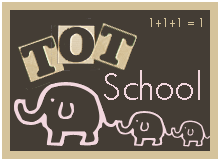 We had a busy weekend last week and I didn't get a chance to write a post, so I decided to include the past two weeks of tot school in today's post :)
Learning Toys...
Smiley had fun playing with puzzles. These are actually too easy for Smiley now. I will have to look into puzzles that are a bit more challenging. Maybe for Christmas or his birthday :)
Smiley continues to like to play with his pegs. He usually lines them up or stacks them by color.
We had fun sorting our animals. He first sorted them by animal group...
...and then by color...
He always likes playing with his lacing beads. He particularly enjoys sorting them ;)
We finished our farm theme last week. We played quite a bit with the matching game from our farm tot book...

And we colored the different animals of our tot book.
We had fun making a collage for our fall theme.
And we baked a bunch of pumpkin muffins. Mmm....
Smiley is a very energetic boy, so he needs lots and lots of time just running around and getting his energy out. He really likes playing with this tunnel from IKEA. It's great for indoors!
We don't get snow in our area, so we were lucky that a park had trucked in quite a bit of snow for the kids to enjoy. It was Smiley's first time seeing snow and he had a blast playing in it!