~Smiley is currently 22 months old~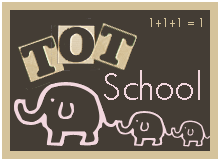 I wasn't a very good photographer these past two weeks. For some reason, I never seem to have the camera handy when we're doing tot school. I have to try to work on that...
ABC's
Smiley surprised me these past two weeks. He picked the book "Dr. Seuss ABC" a few times in a row for his bedtime story, and after about a week of this he knew nearly the entire ABC. I was very impressed and decided to start reinforcing the letters during tot school. He knows almost all the upper case letters and most lower case letters, but I still thought it would be fun to start an ABC book...
So, this past week we worked on the letter Aa.
We also made a cover page for our ABC notebook that we found here:
http://totallytots.homestead.com/ABC.HTML
The finished products:
We found the idea for the Aa craft at No Time for Flashcards...
Learning Toys

We played quite a bit with different learning toys/puzzles these past two weeks, but I only snapped pictures of Smiley working with this sorting toy.
We continued our fall theme over the past two weeks, leading up to thanksgiving. Smiley enjoyed using the dot paint to make some hand turkeys...
I really liked the paper plate turkeys as seen on
1plus1plus1equals1
and wanted to try it with Smiley. He really enjoyed gluing the little paper squres on the paper plate. However, once I put paint on his hand, he freaked out and started screaming. I managed to get a quick handprint, before he pulled his hand away (hence the smeared fingers). I should have known that this craft may not be a good idea for Smiley. He really doesn't like it when his hands are dirty (he doesn't seem to mind a dirty face though). Oh well, we'll try again next year ;)
We got Smiley a little people Mayflower this year, and he enjoyed playing with it many times this week :)