~ Smiley is currently 23 months old~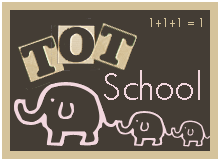 We're taking a bit of a break from our regular tot school during the month of December. We have so many friends and family staying with us this month that things are just to hectic to take time out of the day to engage in our tot school routine. However, this doesn't mean that there aren't tot school moments throughout the day. I was even able to capture some of them ;)
Learning Toys...
Smiley liked playing with his mailbox and saying the colors of the envelopes as he put them in the mailbox.
He's really interested in puzzles lately. We got out his alphabet puzzle quite a few times over the past two weeks. He really enjoys this. He says the letters as he looks for the correct space for it :)
Smiley got a fun little ball that lights up and had a blast throwing it around the house...
He played with play dough a couple of times...
We painted a Birthday Picture for his Nonno (my dad).
He played with his mega blocks many many times this week :)
He's getting quite good at building towers :)
Playing Wii Tennis with our friens. What a blast!
Reading a Christmas book with daddy and enjoying the advent wreath :)
Hanging up window decorations with mommy. We even found Mickey Mouse ones :) Smiley is a big time Mickey Mouse fan these days.