~Smiley is currently 17 monhts old~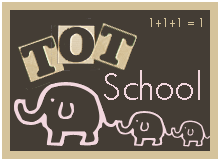 Stacking...
Smiley had lots of fun stacking our plastic cups. He made towers....
He put put the cups on an empty water bottle that he carried in from outside...
and he put his sippy in the empty water bottle ;)
Smiley loves his mega blocks and asks for them almost every day.
Stacking the pieces of his sorting toy.
Fine Motor Skills...
Smiley likes to stick toothpicks in a parmesan shaker.
Sticking plastic sticks into an empty body lotion bottle.
He likes to take caps off and put them back on. Here he is taking the cap off of an old eye liner and putting it back on.
Sorting...
We had fun playing with this shape sorter toy. We also tried to focus on matching the right colors. I named the colors as he was manipulating the shapes.
Smiley loves playing with wallets these days, so we gave him an old wallet with some old cards. He loved it and has been playing with this for several days this past week.

Games/Puzzles...
I got the idea to use Connect 4 as a tot school tool from several other blogs, including Wilson Ramblings. Smiley loved playing with this...
Playing with his puzzle. I usually ask him, "where is the pig?" and he will get the animal and repeat the name. Sometimes he also makes the animal sound as he gets the puzzle piece and puts it back in its spot :)
Life School...
Smiley really enjoys cleaning, and I am the last person to stop him ;) I hope his love for cleaning will last many many years!
Having fun with daddy...
Watching his signing time dvd. This is the only dvd that he watches, and he absolutely loves this series. He is very focused the entire time and will make most of the signs that are covered on the dvd. Currently, he gets particularly excited when he sees the train and the puppy :)
By the way, Smiley is obsessed with keys these day, so in many of the pics this week, you can see him holding our keys. He walks around sticking them in key holes and several other places. He also insists on being the one to unlock our front door and our car :)
If you would like to read what other tots did for tot school this past week, please check out Carisa's great blog at
1plus1plus1equals1
.