~Our little Lovebug is currently 24 months old~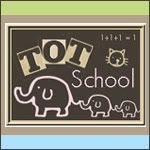 Our activities this week were mainly centered around fall. We worked on apple prints, which the kids loved. If you want to make apple prints make sure to cut your apple horizontally to expose "the star".
We noticed the changing season particularly this past week. While it is still sunny and warm (even hot) during the day, it cools down as soon as the sun begins to set. We also have quite a bit of wind in the late afternoons. We will have to go and fly our kites some time soon :) We enjoyed one of these windy evenings at the beach...
Smiley cut apart paint samples from the hardwood store for us one day, and our little one had fun matching them by color (I got two of each set).
We then sorted by color group (all the yellows on one stack, the reds on another, the blues on another and the greens on another).