~Our little love bug is currently 24 months old~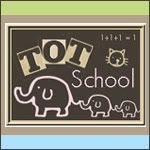 We continued with our fall activities this past week. I made a sensory bin for the kids, which they loved. I included oats, textile leaves, and eraser pumpkins. Lovebug really enjoyed scooping the oats into our halloween pails...
We sorted leaves by color...
We worked on different Halloween crafts this week as well. Lovebug made a bat...
Later in the week, the kids enjoyed scooping corn kernels.
Making Lego towers...
Working on a mommy-baby animal puzzle.
Finger painting a fall painting :) Somehow the paint always ends up on love bug ;)