~Smiley is currently 31 months old~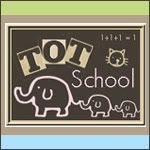 LETTER T is for TURTLE Craft
I finally got around to doing our letter T craft this week. We covered the letter Tt a few weeks ago, but between traveling and moving, I just didn't get around to it earlier. However, I want to get back into our regular tot school routing next week, and therefore really wanted to complete the T craft this week :)
We made a T is for Turtle Craft. I really loved the cute turtle that Erin over at
Confessions of a Homeschooler
uses for her activities and used that design to inspire our foam letter craft :)

Learning Toys...
We finally got our little critters back out after quite some time and Smiley loved it. He sorted them by color and then set up an animal parade...
We played with megablocks...
He played a sorting game that we got at a consignment store a while back...
We recently got a plastic piggy bank for Smiley since he loves playing with coins ;) We got his piggy bank at the container store...