~Smiley is currently 26 months old~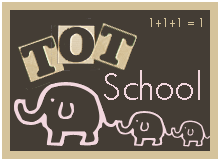 I was sick last Sunday and therefore didn't get to link up to tot school. I am all better now, and here is the recap of what we've been up to the last two weeks :)
Learning Toys...
We worked with our Melissa and Doug stacker. We really focused on sorting by shape. The size thing is still a little difficult ;)
Cooties is always a big hit. Although, the quality of the toy isn't great and it is quite difficult to fit the little leg pieces into the body... (I am not a huge fan of this toy for that reason)
Scatterpillar continues to be a HUGE hit with Smiley. He's really good with the tweezers/tongues now as well!
The Melissa and Doug cutting food continues to be another favorite :)
We dug out our old puzzle again this week. It is really too easy for Smiley and we need to get some more advanced puzzles. Any recommendations on puzzles that are a bit more challenging but not too hard?
Trivial Pursuit. Great for fine motor skills. Continues to be pretty challenging for Smiley, but he does quite well with it :)
Coloring sheet from a preschool box...
ABCs...
We worked on the letter B this week. Here Smiley is coloring our B foam letter :)
He was really into the finished product, especially the stinger ;)
A letter B puzzle that we got from the library... (When he saw the balloon piece he ran to get the balloon he had received from the grocery store earlier that week)...
A felt B...
B stamps...
Books about the letter B...
A letter B hunt...
And then we did the letter Cc...
A foam C in which stuck all of our pegs...
A letter C puzzle...
We made a caterpillar to go with our letter C...
Growing a bunny...

We worked on flowers for our spring collage...
(over several days)
We read spring books :)
FUN...
We had the most beautiful weather the past two weeks and spent tons of time outside. We enjoyed some frozen yogurt...
We went to the beach....
Disneyland :)
Smiley particularly loved visiting Minnie's house...