~Smiley is currently 26 months old~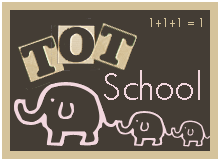 ABCs...
We started the foam letter activities seen on Totally Tots this week. Our letter of the week was Aa. Since Smiley already knows his letters and the sounds they make, we focused on words that start with the beggining sound Aa.
We got this book on Alligators from the library (the only one they had on alligators. I don't think it's particularly great).
We made our A foam letter as seen on totallytots
We went on an A hunt and looked for all the things that we could find that start with the letter A. Smiley really liked this part :)
We baked apple/banana muffins. YUM.
Handy Manny Tot Pack...
We worked on Carisa's
HandyMannyTotBook
. Smiley has been really interested in the show lately, so I decided to make this tot pack with him. It was a BIG HIT!
Coloring Manny's tool boxes...
Coloring the tools and learning their names...
Learning how his name is spelled... (I don't know if he really got the concept, lol).
Matching shapes. He loved this activity. He's a big matcher ;)
Smiley made this zebra hand puppet...

One day, we drew with markers and I asked him to make a circle, which he actually managed to do! I am so proud of him! I had no idea that he could do this. (He then proceeded to scribble all over it, lol).
We sorted our pom poms. He still keeps asking for them every week ;)

We played with his Cooties game. It's great for fine motor skills.
We made several Mister Potatoe Heads...
He had a great time on his Sit and Spin...
Some more fine motor skill practice with his Scatterpillar game. He loves loves loves this!
Love Theme...
We finished our love theme this week.
We read Snuggle Puppy and used the
once-upon-a-book
activity found on Totally Tots.