~Smiley is currently 25 months old~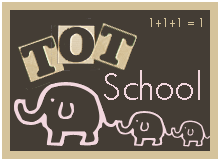 Learning Toys...
We worked on matching lids to bottles, which Smiley was really into...
I saw this idea on a blog last week and knew that I wanted to try it. Fitting the little pieces from Trivial Pursuit into their round shapes. Great activity for fine motor skills!
Of course, Smiley wanted to match the colors as well. He LOVES matching colors ;)
The fine motor control that was required is still pretty challenging for Smiley. He was able to fit in several pieces though. We will definitely keep working on this!
Playing with his Melissa and Doug stacker. He is able to stack by shape, but hasn't figured out stacking by size just yet...
Working on an animal puzzle...
We practiced our fine motor skills some more by working with stickers...
We did some more cutting with our Melissa and Doug toy this week. One of Smiley's favorites!
Big/Small...
This week we worked on the difference between big and small and Smiley does really well making the distinction. We used our buttons, which include small and big sizes to work on this concept.
Smiley sorted his buttons based on their shape...
We continued our love theme. Our printer is out of ink, so I was unable to print some of the fun tot school activities that I have seen on other blogs. However, we used our heart shaped muffin cups to do some more fine motor work, transferring pom poms with a spoon...