~Smiley is currently 19 months old~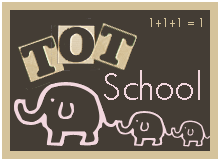 Ocean Theme...
We continued to work on our ocean theme this week. We particularly focused on art projects this week and made this huge collage for Smiley's room. I am impressed by how much he loves art and how well he does with the different projects. He actually sits still and doesn't try to eat anything :)
He did extremely well putting the different foam shapes on our fish. He even put the glue on himself (with some of mommy's help).
What started like this...
Turned into this... :)
We started the Itty-Bitty Bookworm curriculum this week. I already got the September curriculum, since I will be due the end of September and we will likely have a few interruptions to our tot school routine :)
This and next week, we're working with the book "More, more more said the baby". Smiley really enjoys this book. So far I quite like the curriculum, but I need a few more weeks to really be able to evaluate it. This month, the focus will be on the color red and the shape circle. It would be nice to have a number as part of the monthly theme as well. I think this might be included in the curriculum for year 2. I will have to look into that... Let me know if you've used the curriculum and what you think of it!


Working on one of the coloring sheets for the week.
Fine Motor Skills/Color Recognition...
Those are two great skills to combine.
We played a bunch with this stacking toy, which Smiley loves. We worked on the different colors and shapes at the same time...
Smiley always finds new ways of how to improve mommy's tot school games. Here he is balancing the stacker toys on a stirring stick :)
We still enjoy this shape sorter boat. What great fun! Smiley loved hiding his cheerios between two shapes.
Numbers...
Smiley has gotten really really good at recognizing the numbers 0-10. We use the flash cards I blogged about last week, this number puzzle and a number dvd. He's really into numbers these days and loves to show off his new skill. He names and recognizes the numbers 0-10 very easily now :)
Here he is working on his number puzzle. It's great for recognizing numbers and practicing fine motor skills at the same time :)

What is he looking at so intently? His Numbers DVD.
Smiley loves this Number dvd. He asks for it a lot. I think it has really helped him identify the numbers 0-10.
Zoo...
This week, we spent one of our mornings at the zoo. Smiley is a big animal lover and enjoys seeing all the different animals :)
We really enjoyed the seals. What fun animals!



Fascinated, looking at all the animals at the zoo :)
If you would like to read what other mommy's and their tots did for tot school this week, check out Carisa's blog at
1plus1plus1equals1
.