~Ladybug is currently 23 months old~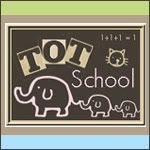 I have always been drawn to the montessori approach and tried to incorporate montessori or montessori-like activities in our Tot School. However, I would like to be more consistent with this and decided to set up montessori inspired tot tray for Ladybug.
Here are the activities that were on our trays this week:
Ocean Stickers...
Scooping sea shells... (the little buckets are from the Target dollar section)
Wooden Beads (a HABA toy)...
Wooden cutting food (Melissa and Doug Toy)...
Pouring pasta...