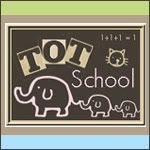 We started rowing our first FIAR (Five in a Row, Volume I) book today,
How To Make an Apple Pie and See the World
. It was a huge success. I decided to start us off with a little trip around the world, following along with the book, to collect all the items for our Apple Pie sensory box.
We used a big map that we got from Costco a few years ago. We started by naming the different continents and oceans, something we have been talking about during our Ocean Study...
We then read the book and followed along on our own map. First, we took a boat to Italy...
We bundled our wheat and placed it on the map (Italy).
In France, we found some chickens (from our Baby Farm Animals Toob), which we also loaded on the train.
Smiley decided to build a train track from France, all the way to Sri Lanka :)
In Sri Lanka, we picked up some cinnamon. We loaded all our good on a car and drove to England.
In England, we found a cow.
On our way there, we picked up some sea salt...
We added some sugar cane in Jamaica (pretend sugar cane, since I didn't find any at the store)...
He loved that we almost forgot our apples, and enjoyed shaking all the other ingredients out of the airplane over Vermont ;)
I then gathered all our ingredients and created a sensory box for the kids to play with. I used wheat for the bottom, added our what grass, our plastic chicken and plastic cow (with a little pitcher for "milk"), our child figure (from a Plan Toy), cinnamon, our pretend sugar cane with two raw sugar cubes, 5 apples under an "apple tree" and a salt shaker.
I then added the vehicles we used on our trip and a few extra buckets, cups, bottles, funnel, and spoons and let the kids get at it :)
They LOVED it!