~Our Little Lovebug is currently 17 months old~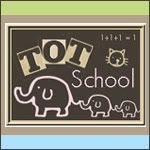 Smiley was working a lot with tweezers this week, and of course, our little lovebug had to give it a try too ;)
She LOVES pom poms. Her brother still loves them as well. She really enjoys fine motor activities in general :)
We worked with blocks and worked on building towers.
Playdough is a big hit with both kids.
She is more and more interested in coloring/scribbling...
We worked with our magneatos and our little lovebug had a great time.
We worked with stickers...
And the siblings worked on a dot art project together :) The little lovebug really enjoyed this. We had to stop once she started eating the paint though...