~Smiley is currently 28 months old~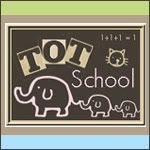 I again didn't get a chance to post last week. I really don't want this to become a trend and will try my best to post again regularly!!

Last week, we did the Letter C craft that we never got around to when we worked on the letter C a few weeks back...


We then worked on the Letter D all of last week and made a D is for Dinousaur as found on totally tots.



We read several books about Dinosaurs and Dogs...
LETTER E...
Then, this week it was all about the letter Ee. We did our E is for Elephant foam letter as found on totally tots. I was gonna go for a grey elephant, but Smiley wanted to add some color. They are his letters after all, so I let him go at it ;)



We read many books about Elephants this weeks. Smiley loves the books "ella the elegant elephant" and "Pennies for elephants" that I got from the library. I highly recommend both books. They are really cute and we may have to go out and buy them :)
I got an elephant puzzle from Jolanthe's blog: homeschool creations. Smiley wasn't into assembling the puzzle at all. Maybe it's too difficult or maybe he just wasn't in the mood. Who knows. We glued the puzzle on construction paper and Smiley colored it, which he was really into!
What started out like this...

...soon turned into this! He actually kept going quite a bit longer after I took this picture :)
We watched a short video about elephants that we found here:
kids national geographic
We worked on a lower/upper case Ee matching that we got from Jolanthe's blog :)
Pre-Writing Skills...
For the first time, I had Smiley make horizontal and vertical lines with these worksheets.
He did an awesome job with them and I want to include exercises like this more often now. I had no idea he'd be ready for this! I may go out and buy the Kumon workbooks soon... I actually saw them at costco a while back and am now upset that I didn't get them then!
Numbers...
We worked on a file folder game that we got from Carisa's blog. This one is from her Easter tot pack :)



We worked with our cookie jar. He loves this toy that I got from Lakeshore quite a while back :)
Science...
On cinco de mayo, after eating a bunch of avocadoes, we put one of the avocado stone in a glass of water and are hoping that it will start growing ;) Just have your little one (under close supervision) poke three toothpicks into it and then submerge half or so of the pit in a glass/jar of water. I will keep you posted on how this little experiment goes...
Learning Toys...
We practiced a lot of cutting with our safety scissors between all the crafts activities we did. Smiley still hasn't figured out 100% how to hold them, but he's able to cut pretty well. I had teeny pieces of foam all over his rug. Note to self: cutting on table only!!
Smiley is really really into the entire CARS theme right now. He loves all the characters and so does his daddy. Whenever they go to a gas station they usually come back with a new car for his collection. Smiley loves lining them all up on his train table :)
A new activity for his lacing beads...
Connect 4 is still a big hit with Smiley...
Animal matching with this cute game that he got from my mom for Christmas...
Playing with the movie theatre playdough kit that he got for Easter...
I can't believe my baby is 7 months old already! Very soon, she will officially join us for tot school as well!
She has changed so much lately. She is sitting on her own now.