~Smiley is currently 20 months old~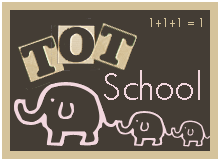 Itty-Bitty Bookworm...
This week, we read "The Wheels on the School Bus". Smiley absoultely loves the book! We did a few activities from the Itty-Bitty Bookworm curriculum to go with our reading of the book.
We played driving a school bus, which was a big hit with Smiley ;)
Another day, we colored a school bus and then drove it around the house :) Another fun activity that Smiley really enjoyed. He particularly liked gluing on the wheels and driving the bus around his room :)
We played with Smiley's pegs a couple of times this week and focused on stacking them by color. I would yell out "purple" and he would then grab all the purple pegs and stack them. He really liked this!
He also enjoyed playing with his shape sorter. Although, I think he sorted mainly by color, rather than shape ;) Nevertheless, he is really good now at putting the shapes in the correct hole!
Smiley still really likes playing with these animal flashcards I got from costco a few weeks back. This week, I put them all out in front of him and said the name of an animal. He then looked for it and gave me the card. Again, he liked this interactive way a lot :)


If you would like to read more tot school posts, please visit Carisa's blog at
1plus1plus1equals1
.